Matesa Tekstil Sanayi ve Ticaret A.S.
Matesa Textile was established in 1989 in Kahramanmaraş / Turkey. As a vertically integrated textile establishment, Matesa has 350,000 square meter open and 290,000 square meter covered area to serve international textile fashion industry.
Spinning Mill
The company has 8 spinning mills, 3 open-end and 5 ring-spun mills, which reliably produce all kinds of yarns such as cotton, polyster and viscose. They are also able to produce slub yarns, core yarns, melanged and dyed yarns with a capacity of 90 tons per day. On the yarn twisting section, the capacity is 4.5 tones per day and the mills are able to twist 2, 3 or 4 applises with or without lycra.
Knitting Mill
Being as a high quality knitted fabric producer, Matesa, produces 45 tones knitted fabric per day with its 143 units with the latest techonology knitting machines. Knitting mill production varies from single jersey, interlock, ribana, transferable ribana, frenchterry, three thread knitted fabrics.
Dye House of Knitting
About the knitted dying and finishing plant; bleaching, dying, tubular printing, brushing, emerising and merserisation, finishing, sanforizing processes are available. The capacity of the dyehouse is 35 tones/day.
Weaving Mill
Matesa weaving mill has the capacity of 60,000 m/day with 182 units with the latest technology weaving machines. It is most welcomed to produce all kinds of fabric such as cotton twills, ribs, poplines, yarn dyed, cotton-poly and poly-viscose fabrics on the weaving machines.
Dyehouse of Weaving
At weaving dyehose plant, dying fabric with reactive, sulphure, fader and indantren typed processes are in use, and all are monitered by computerised control systems with a capacity of 80,000 m/day. Additionally, in the facility, applying coating process and cord-velvet production with 14,000 m/day capacity also available. Yarn dying facility has capacity 3,500 kg/day on raw and 8,000 kg/day on different kind of fibers.
Denim
The Denim plant has a fully automated production process and on-process control with the very latest techonology to produce denim fabrics within International quality standards for all markets. The dying is held with 2 units, 24 beams rope dying machines. The machinery park on weaving in denim, is also state-of-the art and consists of 64 units projectiled and 96 units rapiered based weaving machines.
CO, CV, CL, PES and their blends
Core yarn, Fancy yarn, Melange yarn, Plied yarn
Carded, combed and dyed
110 tons/day for cotton and other yarn types. 2,5 tons/day for twisted yarn.
ISO 9001:2000
Oekotex 100
GRS, FSC, COC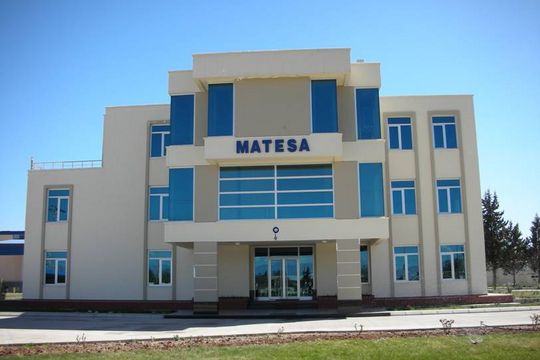 Usterized member contact
Adana Yolu 6. km
Kahramanmaraş
Turkey